Candidates for 2017 ACAT Board of Directors
*Four positions on ACAT's 9-seat board are up for election on Oct. 21 at the ACAT annual meeting at Cynosure Brewing in Anchorage (144 E Potter Dr Unit E). The seats are for 2-year terms. The five candidates are listed below in alphabetical order. All five were approved by the nominations committee. For more information about the elections or board meeting, email info@acat.org
Tyler Boyes
Anchorage, Alaska
Tyler currently works as a technical writer for storm damage reports and as an architectural drafting consultant. He completed a BS in Earth Science from UC Santa Cruz, a certificate in renewable energy from the University of Alaska, and a MS in Building Science from Appalachian State University. As a student, he designed the building envelope for his school's winning entry in the 2016 DOE Race to Zero competition. Tyler has worked as a carpenter, commercial fishing deckhand, and field hydrologist and is passionate about energy efficiency and zero-energy construction. Tyler enjoys living and working in remote places as well as solving energy challenges where minimal infrastructure exists.  He is building a tiny timber-framed cabin on remote land in the Copper River Valley with an off-grid PV system to provide basic power needs.
Sebastian Eckmann
Anchorage, Alaska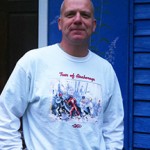 Sebastian Eckmann was born in Europe, transplanted to Anchorage in 1961, where he grew up. He apprenticed in Germany as a chef from 1980 to 1982, and majored in Philosophy and Studio Art at Whitman College, Walla Walla, Washington. He attended Allan Mackey Log Building School in British Colombia, Canada in 1990 and worked as a log builder for a year. He completed Union Carpenter Apprenticeship in Anchorage, and worked as a commercial carpenter for 14 years in Anchorage, AK and Chicago, IL. In 2002, he started Nordic Constructors, and began a General Contracting company focusing on building homes, commercial buildings, and remodels. STRENGTHS: Providing creative solutions, simplifying design and thinking outside the box. PASSION AND APTITUDE: Ability to gather and inspire people toward purposeful and meaningful collaboration.
Jessie Huff
Anchorage, Alaska
Jessie has a M.S. in Applied Resource Economics from the University of Alaska Fairbanks and works as State Energy Coordinator for the U.S. Department of Agriculture Rural Development in Alaska. Her master's work in economics examined the first four homes built in the Sustainable Village at UAF, and provides a suggested framework for future development. Jessie has a B.S. of Interdisciplinary Studies titled Renewable Energy for Alaska's Rural Community, also from UAF. She headed the UAF Office of Sustainability's solar PV initiatives and in 2012 saw four projects finalized, totaling about 35 kW. Jessie came to Alaska in 2007 as a naturalist tour guide. She has worked in off-grid locations powered lightly by renewable energy technologies in Yosemite N.P., Mendocino and Hopland CA, Mexico, Kantishna AK, and Skilak Lake, AK. She also has associate degrees in Art, Theatre and Digital Media. TERM EXPIRES: 2017
Emmett Leffel
Palmer, Alaska
Emmett was born and raised in Homer, Alaska. Between commercial fishing in Homer and Kodiak and pipe-lining in Prudhoe Bay he has traveled and worked across most of Alaska. After 10 years as a UA Pipefitter/Plumber Journeyman, Emmett switched careers into energy consulting and the building diagnostics field. He currently travels the state helping Homeowners, Businesses, Contractors and Nonprofit Organizations to diagnose comfort, durability and health issues associated with building science. He is a USGBC LEED For Homes Green Rater and AHFC certified Energy Rater, BPI Building Analyst,  Healthy Home Evaluator (HHE) certified from BPI, Certified Level II Thermographer. In addition to these he maintains a Mechanical Administrative and State Plumbing Licenses in the State of Alaska. He is part owner in several businesses including Alaska Thermal Imaging LLC which specializes in large commercial air leakage testing and consulting. He has recently completed one of the largest air leakage tests in the State of Alaska on an 111,000 square foot building.  Emmett is also proud to be a founding member of AAEP (Alaska Association of Energy Professionals), and is current term Board President.
Klaus Mayer
Anchorage, Alaska
Klaus Mayer is a registered architect in Berlin, Germany. He is sole proprietor of 'the snowhaus' a design firm in Anchorage and Berlin. He is an adjunct professor at the University of Alaska Anchorage where he teaches sustainability in the build environment to construction management students. Klaus studied architecture and received his degree at the University of Applied Science in Stuttgart, Germany. He has lived and worked in alaska since 1995. From 2001-2013  he was co-founder and partner of Mayer Sattler-Smith, LLC. Since in Alaska, he was appointed trustee of the Alaska Design Forum in 1998 and from 1999 to 2012 was Board President. Klaus was named a Loeb Fellow at Harvard University graduate school of Design for the academic year 2004-2005. He is a frequent guest critic at universities such as Harvard University, Massachusetts Institute of Technology, University of Michigan, University of Munich and others.