Oct 30 Ice Dam Webinar: Strategies and solutions to prepare a roof for winter
10-11am Tuesday Oct. 30 
COST: $10 for ACAT members |$20 for non-ACAT members.Become an ACAT member today for just $25/year
* Webinar can be viewed live or on-demand*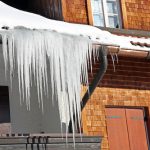 This one-hour webinar will provide an in-depth review of an all too typical problem encountered by Alaska homeowners in the winter: the formation of ice dams on the roof. Not only are ice dams unsightly, but they are dangerous and increase energy use and the cost of maintaining the building. That means, you, as an owner, have to pay even more to keep your home warm. Presenter Emmett Leffel will cover common causes of ice damming, what to do to immediately fix the problem, and how to prevent it from occurring again in the future. Emmett will both address how to build to prevent ice damming, and how to retrofit an existing structure to keep it from happening again. Attendees will be encouraged to ask questions, and Emmett will go over case studies from his own energy auditing practice.
1.

    

Introduction (

10 minutes

)
a.
What is an ice dam and how do they form?
b.     Other common issues that you might see on the roof
2.

    

Ice dams( 

40 minutes

)
a.
Identifying the cause of the ice dam
b.
What to do if an ice dam forms?
c.
How to build to prevent ice damming
d.
How to retrofit a home to eliminate an ice dam from occurring again
3.

    

Q & A (

10 minutes

)
Learning objective: At the conclusion of the class, attendees will understand how ice dams form on roofs and be able to list common causes. Attendees will leave with a plan on how to retrofit a roof so as to prevent this issue from occurring again in the future.
Mr. Leffel is the owner of AK Thermal Imaging, LLC. He provides homeowners with energy ratings, energy conservation and insulation assessments, heat loss analysis, electrical and roof Infrared inspections, and combustion safety testing. He is a certified AHFC energy rater, certified level II thermographer, Air Barrier Auditor, and ACAT Board Members. He has 10 years of experience with home energy ratings and building diagnostics in Alaska.